This cake has a special significance to me. On a friday evening, my 3.5 year old son came running to me to the kitchen and asked me "Mamma, bake a cake for Abbu !" (He knows that his dad comes home only on weekends, as he was working on a different city). I was so surpised that he had observed me preparing good food and bake cakes for his abbu when he is back home. He ran to my cupboard and picked one of my baking books, scrolled the pages, selected this Banana cake !
So, to please him, I let him do all the preparatory work and help me bake this, which he just loved. He was so thrilled and when his dad came home, he waited until the dinner was over and then served this cake to him !
So this Banana cake is the result of Furqan's idea and his love for his abbu.....
Ingredients
All purpose flour - 250 gms
Butter - 125 gms
Milk - 125 ml
Sugar - 110 gms
Eggs (beaten)- 2
Vanilla essence - 1 tsp
Baking powder - 1 tsp
Banana (ripe, and mashed) - 4 (medium size)
Bicarbonate of soda - 1 tsp
Method
1. Cream the butter and sugar in a large bowl, using an electric beater.
2. Slowly add eggs in parts and keep beating it.
3. Add Vanilla essence and mashed bananas and beat well until smooth.
4. Dissolve the bicarbonate of soda in milk.
5. In a separate bowl, sift the flour together with baking powder and add this to the banana mixture, in parts, alternating with the milk.
6. Whisk it using a metal spoon until the batter is smooth.
7. Pour this into a greased springform, lined with baking paper.
8. Preheat the oven to 180°C and bake the cake for about 50-60 minutes until the surface turns golden brown and a wooden skewer comes out clean when inserted in the middle of the cake.
Serve it with Tea along with freshly cut bananas.
I would like to send this recipe to
Healthnut Challenge 7 : Tropical Temptations
.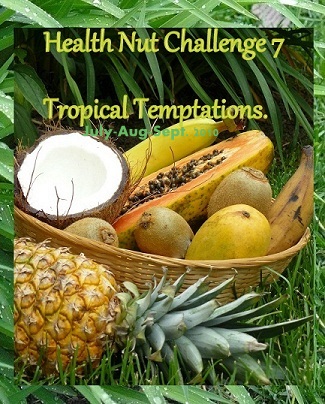 Dish Name Starts With B by Akila
bakes and cakes
Bake-Off
hosted by Champa of
Versatile Vegetarian Kitchen.